They are on duty for us round the clock. They defy storms and rain in order to rescue people in distress in the North Sea and the Baltic Sea. "We head out to sea when others seek safe haven." (https://www.seenotretter.de/en) The Deutsche Gesellschaft zur Rettung Schiffbrüchiger (DGzRS) or German Maritime Search and Rescue Association. Founded in 1865, the DGzRS has saved around 85,000 people up until now.
On July 28th, we celebrate the 21st anniversary of the "Sea Rescuers Day" – yet another reason for us to chat with a real sea rescuer. We met machine operator Michael Moritz in Speyer at the technology festival called BRAZZELTAG. Every year, on the second weekend in May, the Museumsplatz (Museum Square) turns into a playground for petrolheads. From small motorised tricycles to our jet-dragster show, we will make the heart of every technology fan beat faster. In the middle of it all: the impressive rescue vessel John T. Essberger. Every day at 10 am, it announces the beginning of the BRAZZELTAG with its deafening signal horn. Nine sea rescuers – some of them still active – offer tours of the rescue vessel in Speyer which has been inactive since 2011. We met the sea rescuer in the machine room and were able to elicit some details about sea rescuing from him. Being a Hesse, he seemed to have adopted the North German taciturnity. It is to be mentioned that North Germans consider a simple "Jo" (yes) or "Moin" (hi) a whole sentence.  This reflects how short his answers were. Since sea rescuers "do not use many words, it pays off all the more to listen to them." (cf. www.seenotretter.de)
Casually leaning against the workbench, he explained his rank to us. He is the first machine operator on duty at Großenbrode, the last village before the Fehmarn Sound Bridge.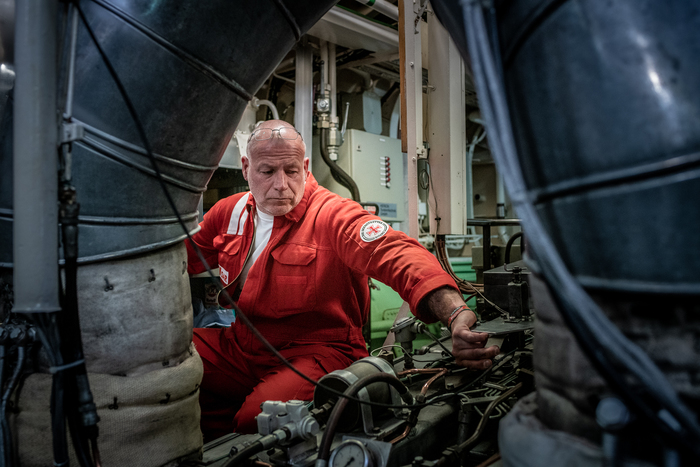 Museum: Moin! You seem to be familiar with this vessel.
Michel Moritz: Jo. I was stationed on the Essberger for several years myself.
Museum: Can you quickly give us some technical details?
MM: Three main propulsion engines, 7.5 thousand hp combined, a 21-cylinder Maybach engine, two 12-cylinder MTU engines, 44 metres long, final speed about 30 knots.
Museum: What is special about this vessel?
MM: All of our vessels are made of aluminium and are "self-righting". "Self-righting" means, the vessel can turn around its longitudinal axis; that is to say that, in the case of a capsizing, it can turn back up by itself and that's our safeguard. Like that ... if the vessel turns upside down in heavy seas, we can get out of it again. If a normal steel ship capsizes, the keel is up and no one can get out. Many rescue vessels of other associations are built that way.
Museum: Is there a specific mission that you still remember well?
MM: First, the "Pallas" fire in front of Heligoland and second, the fishing cutter "Hoheweg" that capsized between Bremerhaven and Cuxhaven. Those missions were exhausting ... they lasted for several days ... some people died.
Museum: What does a day on duty look like?
MM: We are on duty on board for 14 days and then we get 14 days off. While being on duty, we have normal shifts during the day and basically, we are on standby 24 hours a day ... for 14 days.
Museum: Has it always been your dream to become a sea rescuer?
MM: No. Originally, I am an electrician. Due to my time at the Navy, I was allowed to apply for an Electrician and Machine Operator Licence and thus joined the Association. You need a licence in order to work on vessels. Everyone does.
Museum: How is life on board of a rescue vessel?
MM: On this vessel, six men were on duty in one shift, on the current one, there are four men per shift. You are basically living in a shared flat, with only male flatmates. For 14 days and the other 14 days, you are at home.
Museum: Does it take certain character trades in order to be a sea rescuer?
MM: You cannot be a hero. Or play a hero. Only together, we are strong.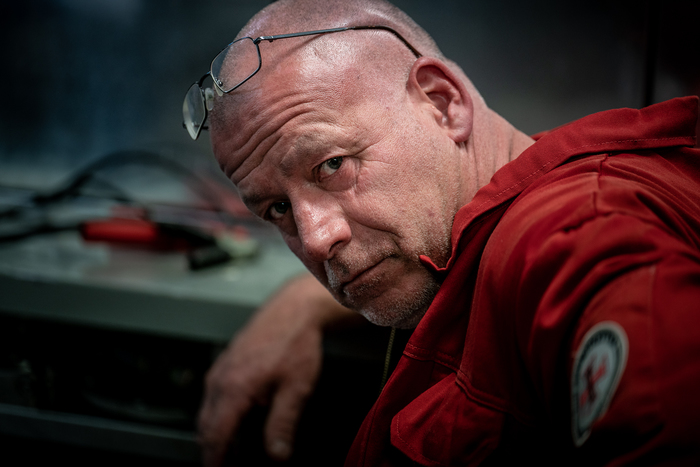 Museum: What if someone does act like a hero?
MM: You can see that right in the beginning. We have to show those people that it only works if we stick together as a team. And they learn right away: no attention-seeking.
Museum: Who or what do you mostly have to save during sea rescuing?
MM: Rented sailing boats ... They go out to sea without knowing what is expecting them or what to do in a storm.
Museum: Do you have a concluding thought?
MM: The Deutsche Gesellschaft zur Rettung Schiffbrüchiger is financed only by donations. We do not make use of any public funds. Only donations and estates.
Museum: Where do most of the donations come from? What do people tell you? "Of course, I'm in" or "I don't care, it doesn't concern me"?
MM: The majority is in North Germany, obviously. However, we also have many donors in the inland and abroad.
The stories and reports represent the opinions and perspectives of the respective authors. Please note, especially while reading articles about our events, that binding information (e.g. opening hours, admission fees and programme) is only published on the museum's official website www.technik-museum.de.
Please note that the pictures, texts and videos published here are subject to the copyright of the respective authors and / or the museum and may not be used without permission.

Keep up-to-date with new articles
We recommend to subscribe to the museum's newsletter via e-mail. At the end of each newsletter, we inform you about new articles so that you will not miss any of them. Alternatively, you can subscribe to an RSS feed:
Subscribe to newsletter RSS-Feed (Reader required)